OCR's invoice capture software solution supports a variety of financial department solutions for accounts payable, accounts receivable, and remittance processing.
The invoice data capture system gives you control over the A/P invoice processing by automating your data entry, approval routing, and payables transaction data entry.
So what is our invoice OCR software? InvoiceMax software allows you to leverage automated invoice processing to transform your AP invoice process to a strategic tool for your finance operations thus resulting in major cost savings and optimal cash flow.
Some benefits
that stand out:
Ability to read most invoices with varying layouts
Intelligent learning algorithms based on AI
Process invoices in seconds
Automate your internal AP process
Capture line item details
2-way and 3-way matching functionality
High Level Architecture and Workflow
The system is preset to give you choices on how you want to ingest the invoices. Directly from a scanner, Mobile Phone, Portal, Fax Server, Email, or the most common, a watched folder on the network. Using watched folders is extremely simple, just scan or place the images directly in the folder and let the system will the work for you.
In this phase, the system will prepare the image so that the OCR results are as accurate as possible. The system has pre-programmed algorithms that remove speckles, punch holes, auto rotate, eliminate blank pages, enhances hard to read characters, and more. This is a very critical part of the process that greatly enhances your capture results. Once the image is ready the OCR engine will read and digitize the data so it is ready for the next phase in the process.
Just like organizing your files at home, OCR's docMax system organizes your digital documents, like an AP invoice. The system will detect the document type and auto classify every document that goes into the system.
Invoice A
Invoice B
Invoice C
All documents can go into the same watched folder and the system will automatically recognize and categorize them per your requirements.
This is the frontier of accuracy and automation. Data extraction deals with two very important functions:
Voting on low or high confidence characters alerting and directing the user to fields that may have incorrect words or letters. Unsure text is highlighted in RED
Business Rules This can be something as simple as ensuring a field to always be a date and have a proper format such as MM/DD/YYYY or DD/MM/YY. Business rules can also include a database lookup in order to compare captured information to information in your company database. The system does extremely well with 2-Way and 3-Way matching.
Once the above processes are complete there are two options for the documents to travel during the validation stage.
If there are no low confidence characters and all business rules are met, the system will immediately export the document and its data.
If there are rules or confidence scores that show up the image and its data will be sent to the verification station.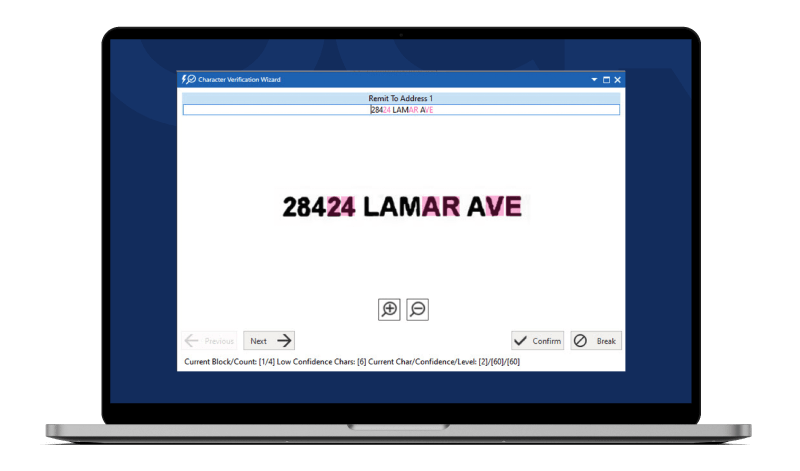 Low confidence characters are presented in red allowing the user to make any corrections necessary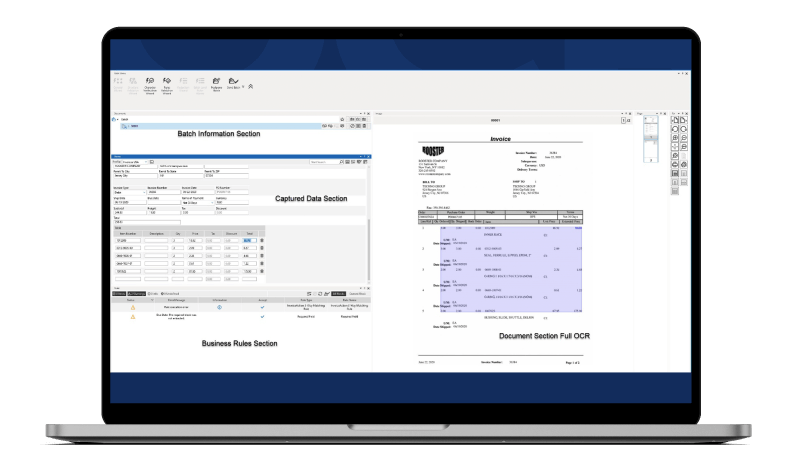 The system will export the image directly to Searchable PDF, TIF, JPG, and the data to XML, CSV, JSON, and more. Customers also have the option to create customized data outputs specific to their needs. The system has a very large number of connectors to other systems such as:
Acumatica
Dynamics
D365 Business Central
Laserfiche
Hyland OnBase
Netsuite
SAP
Sage
Great Plains
Many more!